MIELE GN BAGS 1 YEAR SUPPLY (4 BAGS + 2 FILTERS)
Description
Miele GN Bags - 4 Pack (4 Bags + 2 Filters)
GN Bags are Miele's larger bags at 4.5 Liters. This 4-Pack GN Bags is meant to be a 1 year supply of bags and filters. That obviously would depend on the amount of usage and size of your home. There are 4 bags and 2 filters included in this box. 1 Pre-Motor Filter and 1 Exhaust Filter. The Filters should be changed once every year or Every 4 Bags. The bags are to be changed once full, or roughly every 3 months. The GN bags fit below current models:
All Miele Complete C3 Powerline Models:

Miele Complete C3 Limited Edition

Miele Complete C3 Excellence

Miele Complete C3 Totalcare

Miele Complete C3 Cat and Dog

Miele Complete C3 Powerplus

Classic C1 Models
Older / Discontinued Models that take GN Bags:
S2

S5

S8

S400i - S456i

S600 - S658

S800 - S858

S2000 - S2999 Series

S5000 - S5999 Series

S8000 - S8999 Series

Complete C2 Series 
Original Miele GN Bags
Each box has 4 Original New Miele AirClean 3D  G/N bags, 1 motor filter, and 1 Air Clean Filter.
The 3D bags inflate with even the slightest flow of air, allowing you to vacuum for up to 20% longer without having to change the bag.
There are no dust fumes that come out of the original Miele 3D G/N bags because these bags are made out of 9 layers of filters,  ideal for allergy and asthma sufferers.
Don't know which Miele vacuum bag to get for your Miele vacuum? See the compatibility chart below to find the right bag for your Miele vacuum cleaner.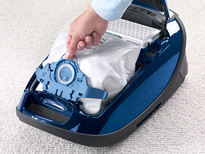 Note; All miele canister vacuums either take FJM or GN bags. The difference between FJM and GN bag is only the dust capacity not the fitting. GN bags are 1 litter larger in terms of bag volume  than FJM bag, however the front tab fitting is exactly the same. So even if you chose the wrong bag, it still fits your canister Miele vacuum nicely. You may have one litter more or less dust capacity.